Assistant Director  (Academics)
Children give us immense joy and a million reasons to smile. As adults, it becomes our duty and privilege to ensure that we give them the best possible education and upbringing, one that will allow them to express themselves and discover their true identity and potential.
Early childhood education lays the foundation for all future learning. We at La Petite strive to provide an environment in which each child can truly experience the myriad joys of learning. Our goal is to sow the seeds of knowledge and culture that will blossom in our atmosphere of kindness, respect and intellectual inquiry. We foster the growth of independent, self-confident children using an interactive learning process based on the principles of Dr. Maria Montessori.
The educational approach at La Petite allows children to grow at their own pace and pursue their special interests giving them a head start on a successful future life. Our classrooms provide a prepared environment where children are free to respond to their natural tendency to work. The children's innate passion for learning is encouraged by giving them opportunities to engage in spontaneous, purposeful activities with the guidance of a trained adult.
In this voyage, we look forward to working closely with teachers and parents and create an environment conducive for the development of the child. Montessori education is ultimately about life; about helping children develop into creative thinkers, successful caring adults who will become future leaders of the world.
Design & Communications Head
Cultivating the right combination of Design and Communications, Anupriya Singh has been associated with GD Goenka Group for almost two decades. Developing lasting experiences through words and websites, pixels and packaging, events and environments, she believes design is more than a logo, it's a strategy made visible.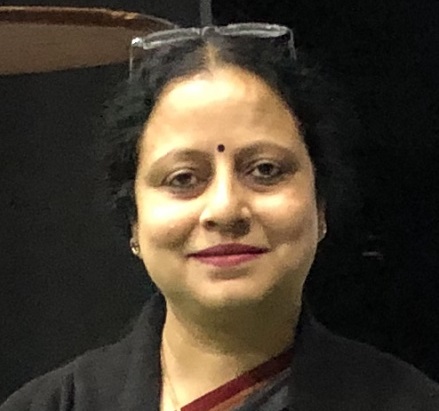 Executive PR
An experienced Education Management professional with a demonstrated history of working in the elementary education industry. She is skilled in Montessori, conducting academic audits and handling operations of schools, tracking student teacher interactions, resolving conflicts and conducting outreach programs.
She believes that the first learning experiences of children deeply affect their future physical, cognitive, emotional & social development and is thus devoted to constantly evaluating and developing ways to enrich and enhance the educational system.
Neeta Prasad
Asst. Professor & Montessori trainer
Asst. Professor with the School of Education at the G D Goenka University. She is a Post Graduate from Delhi University. She has also pursued her B.Ed and Diploma in Montessori System. She has been training teachers in the Montessori System for the last three years at the G D Goenka University. She is also a part of the G D Goenka La Petite academic team.